It is great to have you as part of our site,  if you are reading this then you are probably asking how to get the most out of your account with us.   Keep reading and we will show you how.
There are many great features on Brasskangaroo which help you to do just that.
Social Media

Firstly make sure your use the social media share option on each article, Facebook, Twitter and Reddit buttons are all available, we find that Reddit and Twitter bring the most benefits in terms of attention and SEO benefits.
Profile Page

Make sure your complete your profile page, choose an eye catching header or splash image and a good icon for your thumbnail, these really help to catch the attention of visitors and bring extra visitors to your profile and article pages.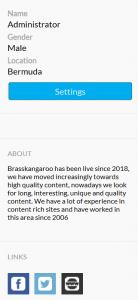 Remember to complete your profile, so that means adding a good amount of text to describe who you are and your interests, people like to read about other people and you'll get more followers and likes if you take the time to share information about you.
Google the leading search engine doesn't like empty profile pages, and you'll find that if you don't take the time and make the effort to complete the page in time it will drop out of the Google index, and therefore loose you a valuable source of traffic to your articles.
Don't forget to add a link to your own website, and social media accounts, using Brasskangaroo is a great way to get followers for your own social media accounts.
A link back to your website can also help you from an SEO point of view.
We have links options for Facebook, Twitter and your own website.
Followers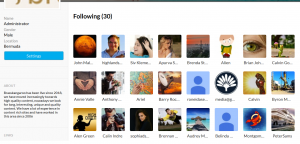 Followers are a great way of building your reputation, the more followers you have the more people get to notice you, as you publish articles, your followers get notifications so you have an instant source of potential visitors.
The more links you have from followers the more attention your page will get from the Search Engines, potentially leading to higher rankings and more visitors.
Comments

Comments are a great way of interacting with other user and at the same time building more internal links within the brasskangaroo site through to your profile page, the more interlinking you have within our site the more prominently your content will feature within our site and on the Search Engines such as Google.
Reactions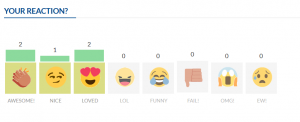 If you like an article – give it some feedback!
So there you have it, just some of the great ways our site helps you to promote your content and build a community feeling between our members, we love high quality unique content, so keep writing it and keep sending it our way!
Please follow and like us: