Adding video to your Brasskangaroo articles is one of the best value added things you can do, Google the leading search engine evaluates pages using their algorithm once a page or post has built up a reputation of its own, via links then it get evaluated for inclusion, or continued inclusion on their page #1 of search results based on user metrics.
User Metrics
Google uses several user metrics to evaluate things, these being:-
Time on Page – Here clearly a video if relevent and interesting is going to hold a visitor for longer on a page as they need time to view it, so finding or creating a video and publishing it on Youtube then linking to that on Brass Kangaroo is an idea step.  The Add video option is the red button at the end of our page editor.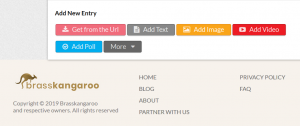 Bounce rate – this is the % of visitors who read an article then more or less straight away return back to their Google search, this says clearly to Google that the page is not that good a match to the searchers intent, so writing good quality content is essential, but added an eye catching video is more likely to hold visitors to your page.
Click through rate – having a catchy title helps to get visitors to select your page to read from the Google Search engine results placement known as SERPS so thinking of a unique, original and interesting title is another key factor.
Google and other important internet players are currently attempting to make  a break into the offline world by grabing a slice of the TV user audience the idea being to bring 10,000's of micro TV channels to people's homes giving them a real alternative to their local TV channels, the idea is a good one, so having your own videos created is a great way to promote your business and using Brasskangaroo is an idea way to get exposure for them.  We have our own Video section which increasingly is  getting more and more traffic all of the time

.
Just like the major players we can see the potential for video content to attract an audience and get attention, so we really recommend you make the most of this section and weave in as many videos to your content as you can.
See also our latest promo video as an example!
Please follow and like us: