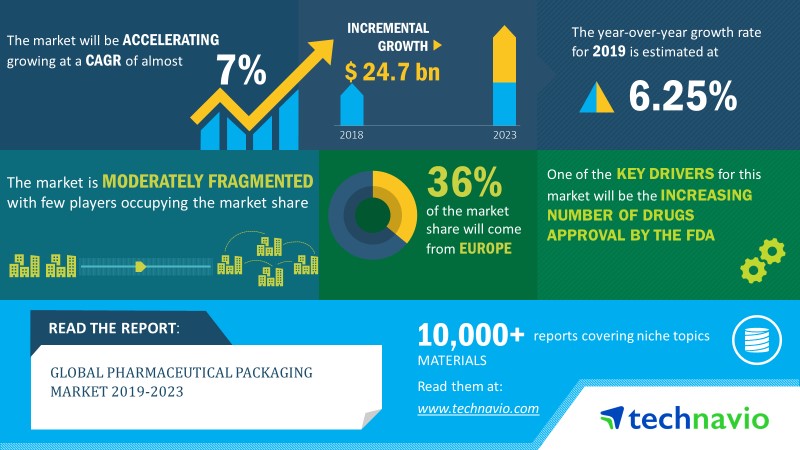 Vendors in the global pharmaceutical packaging market provide different types of packaging such as primary and secondary packaging for various pharmaceutical products. As per the latest market research report published by Technavio, the Get the free sample report below for the detailed information.
Download the free sample report @ http://bit.ly/2CI8qWo
The global pharmaceutical market is expected to witness substantial growth during the forecast period. The global pharmaceutical sales are expected to reach $1.4 trillion by 2023. The growing number of the aging population and new product launches by pharmaceutical companies are the major factors driving the market. For instance, as per the World Bank, the percentage of population aged 65 years and above reached 8.69% in 2017 from 6.88% in 2000. The growing population is expected to increase the sales of prescription drugs.
Additionally, factors such as increasing health awareness and growing medicinal knowledge of people with the help of the internet are increasing the sales of over-the-counter drugs. By understanding the consumer requirements, over-the-counter drug manufacturers are introducing specific medicine for treating minor ailments, which in turn increases their overall sales. The growth in pharmaceutical sales is expected to increase the demand for pharmaceutical packaging. Also, many pharmaceutical manufacturers are outsourcing the packaging operation to reduce the overall cost. Hence, the rise in pharmaceutical sales is driving the growth of the global pharmaceutical packaging market at a CAGR of 6.75% during the forecast period. To know the complete and in-depth analysis and forecast of this market get the complete report by clicking the link below.
Get the Complete Report @ http://bit.ly/2qa4Bqn