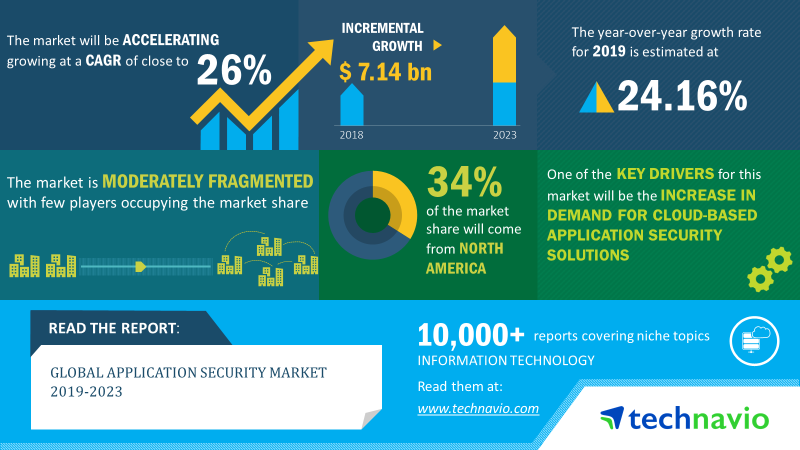 Technavio has been monitoring the global application security marketsince 2016 and the market is poised to grow by USD 7.14 billion during 2019-2023, progressing at a CAGR of close to 26% during the forecast period.
"Cyber thefts by hackers and cybercriminals are growing at an alarming rate and the number of data leaks have increased globally. This has resulted in the increased demand for application security, as it helps enterprises to review the critical areas of concern within their environment and provides tools to defend against these attacks," says a senior analyst at Technavio.
The market is driven by the increase in demand for cloud-based application security solutions. In addition, the growing number of data leaks is anticipated to further boost the growth of the application security market.
Download the free sample report @ http://bit.ly/2NmW0bC
The increase in demand for cloud-based application security solutions is one of the primary factors that will fuel the growth of the application security market during the forecast period. Cloud-based solutions are less expensive than on-premises solutions and they do not require the actual installation of hardware and software. In addition, the deployment of a cloud-based application security solution is easier and less time consuming than that of on-premises application security solutions. Thus, vendors are offering cloud-based application security solutions to cater to the growing demand.
Major Five Application Security Companies:
Broadcom
Broadcom operates under four segments, namely wired infrastructure, wireless communications, enterprise storage, and industrial & other. The company offers web and mobile applications security through VERACODE, a subsidiary of CA Technologies (acquired by Broadcom in November 2018).
Hewlett Packard Enterprise Development LP
Hewlett Packard Enterprise Development LP owns and operates businesses under four categories, including hybrid IT, intelligent edge, financial services (FS), and corporate investments. The company offers end-to-end application security solutions with the flexibility of testing on-demand and on-premises to cover the entire software development lifecycle.
IBM
IBM is one of the most popular IT companies in the world, with business operations under various segments, including cognitive solutions, global business services, technology services, and cloud platforms, systems, and global financing. The company offers preemptive protection to enhance mobile and web application security, protect applications from malicious use, and help enterprises to remediate potential attacks in the future.
Singtel
Singtel offers data connections, premium content, cloud, cybersecurity, digital marketing, data analytics, and over the top (OTT) video. Under its application security category, the company offers web application protection by restricting malicious requests from reaching enterprise web servers.
Synopsys, Inc.
Synopsys, Inc. offers software products and consulting services, primarily in the electronic design automation (EDA) software industry. The company also offers web application and mobile application security.
Technavio has segmented the application security market based on the solution and region.
Application Security Solution Outlook (Revenue, USD Million, 2019 - 2023)
Web application security
Mobile application security
Application Security Regional Outlook (Revenue, USD Million, 2019 - 2023)
APAC
Europe
North America
MEA
South America