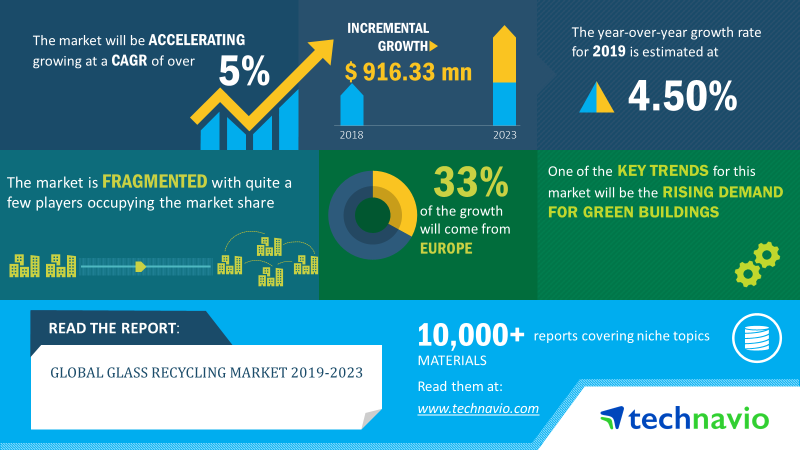 The glass recyclingmarket size is poised to grow by USD 916.33 million during the period2019-2023, according to the latest market research report by Technavio.
Glass recycling helps conserve natural resources and landfillspace. It is estimated that the replacement of around 10% of natural rawmaterials by recycled glass cullet in the glass production process can reduceenergy consumption by approximately 3%. The lower energy consumption, thereby,reduces carbon dioxide emissions. Moreover, the glass recycling process hasmany other economic benefits that include reduced raw materials, extendedfurnace life, and other environmental benefits. Such economic benefits willsignificantly drive the growth of the glass recycling market size during theforecast period.
Download the free sample report @ http://bit.ly/2Qc5Hfn
As per Technavio, the rising demand for green buildings willhave a positive impact on the market and contribute to its growth significantlyover the forecast period. This research report also analyzes other importanttrends and market drivers that will affect market growth over 2019-2023.
Glass Recycling Market: Rising Demand for Green Buildings
The concept of green buildings is gaining immense popularityacross the world and is being adopted in developing countries for overallenvironmental sustainability. Green buildings help increase the total assetvalue of the building in terms of goodwill and minimize its environmentalimpact. Building engineers and architects are increasingly using glass toconstruct and design passive or low-energy buildings, which qualify as greenbuildings. Thus, the growing demand for green buildings will stimulate the needfor glass that is manufactured using recycled glass cullet.
"Other factors such as the increased use of glass cullet inNorth American glass container industry, and emergence of new methods toincrease the rate of glass recycling will have a significant impact on thegrowth of the glass recycling market value during the forecast period," says asenior analyst at Technavio.
Glass Recycling Market: Segmentation Analysis
This market research report segments the glass recyclingmarket by product(container glass, and construction glass), and geographic region (NorthAmerica, MEA, APAC, Europe, and South America).
The European region led the market in 2018, followed by APAC,North America, MEA, and South America respectively. The growth of the glassrecycling market share in Europe can be attributed to factors such as thegrowth of the construction industry and the presence of favorable governmentinitiatives supporting glass recycling in the region.