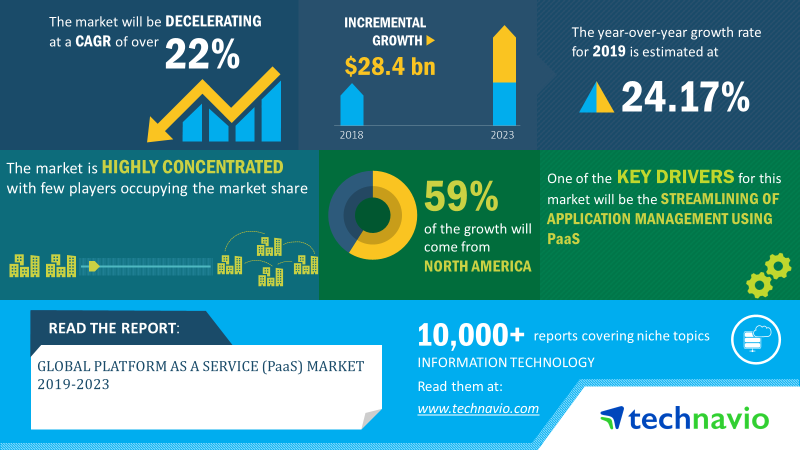 Emergence of video communication PaaS to gain popularity
Video communication PaaS enables developers to add variousattributes including real-time video communication feature to cloud computingto enable communication among various customers without the requirement ofbuilding back-end infrastructure and interfaces. Video communication technologyalso offers various end-users with a medium to conduct commercial services.Therefore, various organizations and customers are adopting the videocommunication platform to strengthen the bonding between various communicatingend-users as it diminishes geographical boundaries. The rising demand for thisservice in the business, media, education, and healthcare sectors is anotherkey reason for the increasing use of video communication PaaS solutions. Thus,with growing number of end-users adopting this platform the global platformas a service market isanticipated to witness significant growth during the next few years. The globalplatform as a service market size will grow by USD 28.4 billion during2019-2023.
Public cloud segment garnered the highest share during 2018
Public cloud segment accounted for the highest share of themarket during 2018. Cloud vendors are offering the public cloud services onsubscription-based model. Various organizations are adopting public cloudservices due to the several advantages offered which include high-scalability,flexibility, high-availability, reduced complexity, and minimal investments.The adoption of public cloud solutions makes it convenient for SMEs to accessadvanced solutions including big data, data analytics, and the Internet ofThings (IoT). Therefore, with more and more SMEs embracing public PaaS, thepublic cloud segment will witness significant growth in the forthcoming years.
Download the freesample report @ http://bit.ly/2OgmXiW
Platform-as-a-service (PaaS) to witness fastest adoption in theAPAC region
The PaaS market is witnessing a steady growth in the APAC regionmainly due to the increasing revenue contribution from emerging economiesincluding China, Japan, and India. The key reason for the growth of this regionare favorable government initiatives targeted at promoting the adoption ofcloud solutions. In addition, the increased use of smartphones and variousmobile applications are boosting the development of new applications. This isencouraging companies to deploy PaaS due to its flexibility and scalability.Thus, the growing adoption of smartphones coupled with launch of PaaS solutionsto cater to the evolving end-user requirement will drive the PaaS market growthduring the next few years.